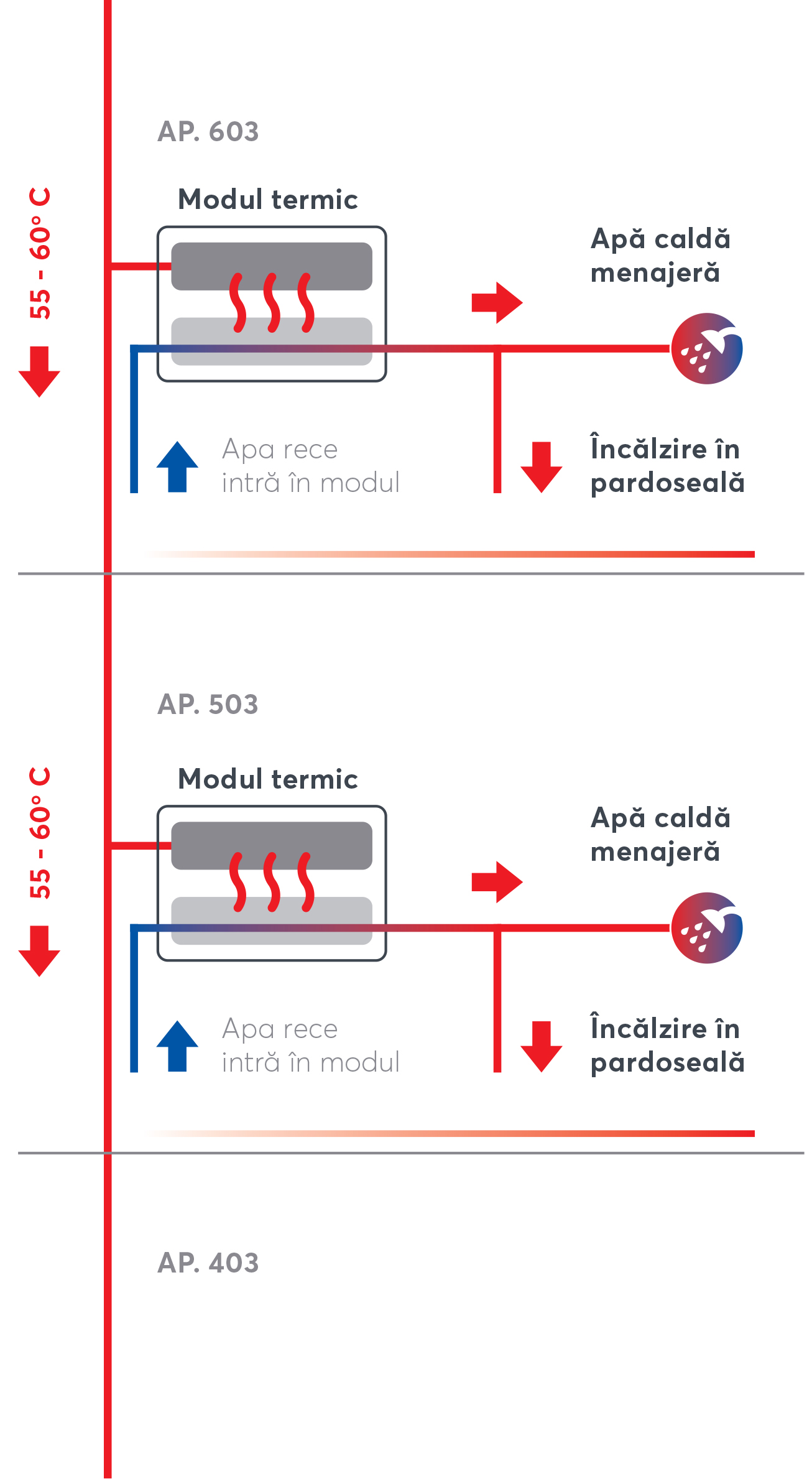 Constant pressure
Due to the high placement of the plant, the water gets to the heating module without the necessity of pumps. The water pressure is always constant.
Heating module in the apartment
Each apartment has an individual counter and a heating module with two heat exchangers (one for hot household water of 40kW and one of 15kW for floor heating).
How does it work?
The thermal agent gets to the heating module. Its role is to heat the water in its circuit. The water in the internal circuit of the apartment is heating, passing through the thermal module and it later gets to the tap and floor.
The capacity of hot water production is almost double the capacity of a standard plant.
Designed for
comfort and efficiency
The heating system is strategically located on the buiding. From here, the hot water is distributed to your apartment. You are in full control.
Always.
Save smart
You are always independent and in control. You have a counter and an individual circuit. The power efficiency of the plant placed on the block reduces the consumption (hot water + heating ) up to 30%. The heating module doesn't need servicing or revision in the apartment every two years as you were used to with standard plants.
Easier. Safer.
There is no need for you to be connected to gas, removing, in this way, both the risks associated with an inappropriate use of the system and the inconvenience related to limited performance of the classic plant. You will get rid of the pipes in your house and you will have more room in your apartment. The plant works all year round.
Upgraded Efficiency
The thermal module has a flow of 18-22 liters/minute at a temperature of 480°C as opposed to the standard ones which have a flow of 12-13 liters/minute at a temperature of 450°C.
Smart Thermostat
You are always in control through the smart system for temperature adjustment, compatible with SmartHome systems.